ARCHITECTURE ISSUE
Dear Reader, This issue of Musea is the second one I've done on Architecture. Build on! Speaking of that, let's start by building on this intro from the last Musea issue on Architecture:
"I don't know of a recent issue of Musea that was more fun to do than this one. I love architecture and for decades have enjoyed designing imaginary buildings that I would love to visit, work at, and live in. How drab a day at a 'box' building that no architect has ever loved. How exhilarating a day at a labor-of-love edifice rising with gusto and moxie from its surroundings. Come with me and take a walking tour of Tommy-ville populated with lots of new and hopefully - someday - 'ground-breaking' buildings. Enjoy!" [Note: Some buildings are repeats, some are revised, and some are new.]
I hope to one day
turn these into
professional drawings
and built models
and finished buildings
towering above me.
<![if !vml]>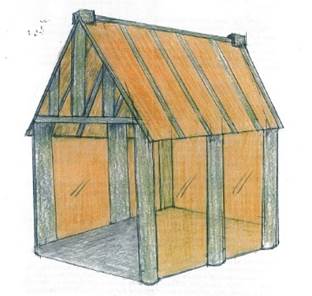 <![endif]>AMBER CHAPEL (pictured left)
This simple building may be my best. Though it looks small it is about 5 stories tall. The slanting roof is opaque, but the side walls are amber tinted. Perhaps the front is open, perhaps it's amber glass too. The piers can be wood, cement, or marble. The chapel should be open to all. I think it would work best if situated in a wooded area.
HOME (Hendricks Manor.) See Illustration #1
My dream house would also be part theater/concert hall, hotel, art museum, restaurant, movie theater, bar, lobby, art workshop, library, offices, observation deck, + assorted kitchens, dining rooms, a porch, and gardens. Note the picture. There is a large main square building with rounded roof (5 floors), a tower (6 floors), an 'L' shaped building connecting the two (4 floors), and a basement under all three. Purpose: A multipurpose place to live, work, and entertain. Just for fun: Note no windows on the facade. Actually the windows are hidden here there and everywhere. When they're closed the shutters blend in with the walls so it all looks like 1 solid-wall prairie castle. Also in a house this big, there HAS to be secret staircases to secret rooms!
ART MUSEUM (Home for my art works) #2
Tall slender multi story rectangular building has pitched roof and windows on top only. Visitor ascends through 4 different pathways to get to the top. Each pathway houses a specific art exhibit. Just for fun: at the top floor have an entire ceiling mural of stars and the solar system. May also have underground cafe, storage, offices, and gift shop.
<![if !vml]>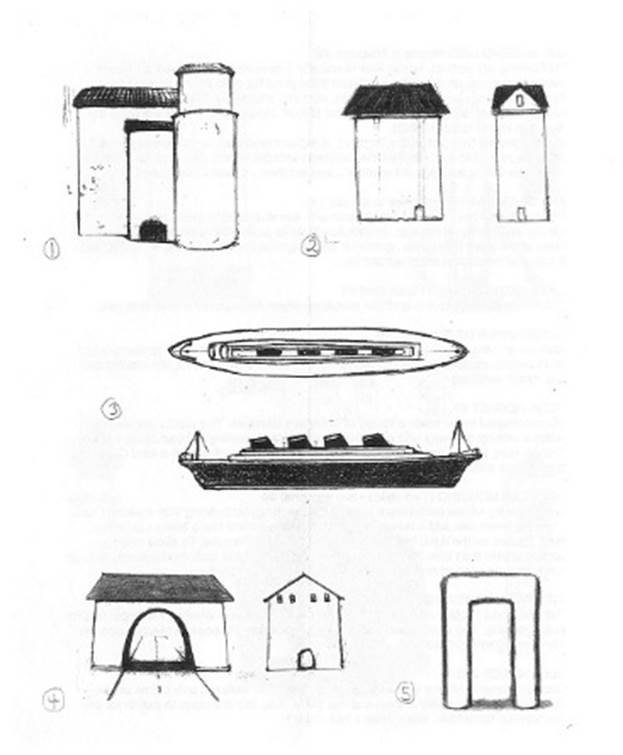 <![endif]>
*
U.S. MUSEAD (USS Musea or Musead) #3
This Dallas, dry docked, ocean liner is actually a massive 'ship-shaped' art center celebrating every art on earth. Scattered throughout the ship are small and large theaters, cinemas, concert halls, studios, etc.; that alternate with quieter libraries, art exhibits, stores, lounges, restaurants, and offices. Specifically: 6-12 floors (plus the deck has lots of lookout spots).
Related project (not pictured) - Tugboat. A tugboat next door, is the underground entrance to a children's Musead that connects with the parent ship. Just for more fun: When this ship is full up, build another... and another... a fleet if necessary!
ART DE TRIOMPHE (gateway to the city.) #4
Patterned after the Paris triumphant arch with this viva la difference - this gateway to the city celebrates art not war. Just for fun: Note its prairie-fitting simplicity. The lack of fussy detail gives it a solidity, grandeur and elegance that well fits our American style. It also well celebrates art of substance.
GATE LESS GATE (or Pi Sculpture) #5
Tall arch, gateway, door is a single sculptural piece. Represents a gate-less gate.
SKYSCRAPER (10 FLOORS) #6
With many vying to design the tallest skyscraper ever; I suggest 10 or so floors is just more livable and lovable. It's Goldilocks right. Here are two options, the smaller one has larger windows.
BOOK ROCKET #7
Rocket shaped tower holds a library of children's literature. The stacks are arranged along a circular stairway with occasional exhibits and reading alcoves along the way. The cutaway shows the winding staircase and bookcases. A one-of-a-kind Children's book library and museum.
MODULAR HOUSING (Two styles - two versions) #8
Mod. housing where each house starts with a rectangular building with a pitched roof. Then the buyer can add a bump out. Picture in the middle has a bump out on the front. Picture on the right, has a bump out on the side. Purpose: To allow average people to own their own homes and get an un-cookie cutter look. Homeowners add on bump outs as needed and can afford. Perhaps a carport too?.
<![if !vml]>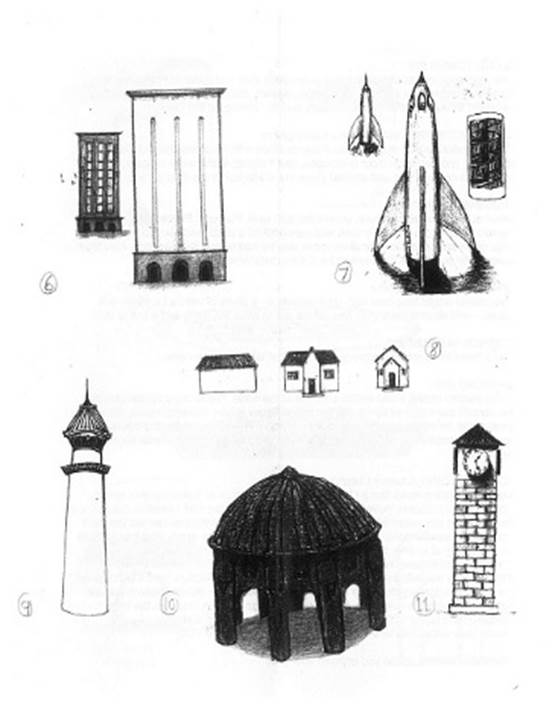 <![endif]>VICTORIAN TOWER #9
Tall tower has 2 look out perches. The lower one for outside viewing, the upper one for inside viewing. The style is part gothic and part Gotham. Purpose: A place to see the city from a bird's eye view.
BELL TOWER #10
Circular, domed building houses a series of bells. The bells not only chime on the hour, but once a day play a short musical piece. Also this is a place to gather for any momentous occasions. Want to be a bell ringer?
CLOCK TOWER #11
Two story high, red brick tower has 4 sided clock face and pyramid red/brown top Purpose: To show the time in a busy public square. Just for fun: Have 5 or 6 of these scattered throughout the downtown area and all chiming on the hour.
GLASS CATHEDRAL (Stand alone building) #12
This Cathedral stands out because it stands alone with no connected buildings; stands tall and narrow without buttresses, and it stands with 3 walls of glass, tinted blue-green on the sides and stained glass at the top half of the front facade.
THINKING ROCK #13
Small outdoor roofed structure, covers flat rock seat. Purpose: People come, like Rodin's 'Thinker', to sit on the rock and ponder. Add a visitor book to allow people to write down any revelations or discoveries they've had on the thinking rock. Also have a wind chime or bell that they can strike if a eureka moment happens.
CHAPEL (AIR WALLS) #14
This chapel would look best high on a mountain - a place in nature for pilgrims to gather - with sloping walls over four pillars, rail to mark the front, and a bell to call.
SCIENCE MUSEUM #15
The 3 floors have rotating science exhibits. One window on the side.
CARPORT #16
Large carport shows some stylish columns at the ends. Frank Lloyd Wright invented the carport and that's all us southerners need in our milder winter climates. Yet why not a large one for public parking and make it stylish? Would also make a great space for weekly flea markets or a giant covered playground for kids, or the world's largest sandbox.
BOOK BUILDING (Literary Library) #17
Squarish building looks like a Claes Oldenburg sculpture of 5 side-by-side books labeled history, poems, novels, plays, and essays. Note the roof looks flat, but this is a faux roof that lets water fall to a lower pitched roof that drains rainwater out the back through gutters. Purpose: Houses all major works of lit of the world. Also has exhibits on the history of writing, book making, zines, periodicals, pulp fiction, etc.
The empty warehouse inside has 4 pyramid shaped, stacked, floors of books. At different floor heights, the 4 rising ziggurats of books and displays (and a fifth around the edge) are tied together with bridges and walkways. The oldest books are at the bottom of each book mountain. As you go up you go through time with the most contemporary (up to 2000 AD) at the top. Lots of guard rails please!
<![if !vml]>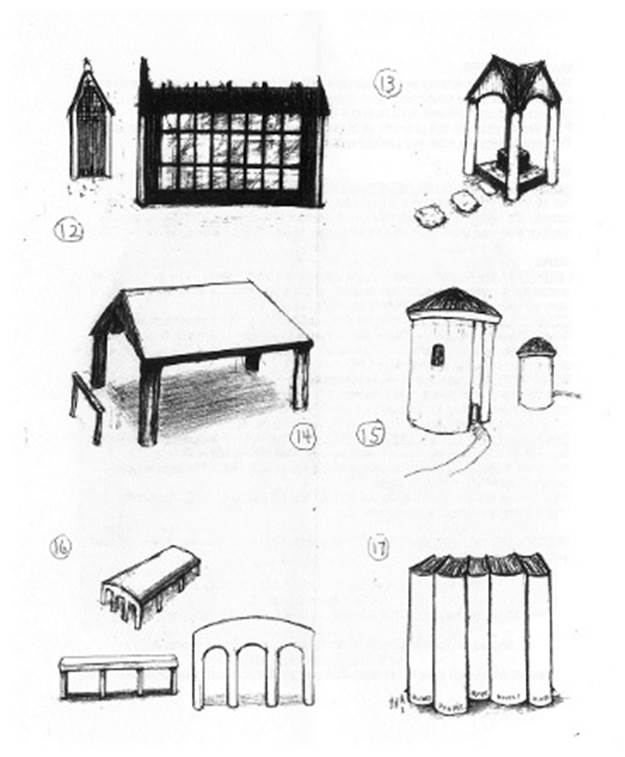 <![endif]>[Inside idea suggested by the comic The Dreaming #1 p. 16 - DC]
Well that's the tour. Hope you enjoyed your visit.
MUSEA READERS,
This has been a very busy year. I was able to finish lots of projects, and post them for sale on all the major music and book streaming websites.
Did you miss any of these 9 CD's and 4 Books?
Would you help me promote all these, by telling your friends, and family, etc.? That would help me a lot and I would appreciate it very much. Thanks!
Music
HUNKASAURUS AND HIS PET DOG GUITAR 150 SONG RECORDING
For 10 years I've worked on a 9 CD, 150 song collection of half originals and half covers. It'ss all types of music, that reflect my song list of 'voice and standard guitar' playing, that was developed during 18 years of box office concerts. $9.99 per CD.
Books
LIBRARY PLANET: Within these pages you'll find a sci-fi adventure, a gothic tale of suspense, a mystery, a quest, a romance, and a 1,000 libraries to house them in - a story so vast it requires a LIBRARY PLANET! $1.99
CENDRILLON: Cendrillon is the true story of Cinderella. A packet of letters from a historic Germanic Queen, is found that supports in every way the details of the Cinderella fairy tale. There is also included a real photograph of Cendrillon, based on a print portrait made at the time. $1.99
PORTRAITS: Portraits is a novel about three things: Nine artists that come together in an art co-op to change art, the romance of two of the artists Jack and Francesca, and a secret admirer, Missy U., who plays a major role in it all.
It is a novel about art, artists, and the art revolution. $1.99
TEN SHORT AND SHORT-SHORT PLAYS: Five Short Plays including: The Wandering Student, William Tell, Medusa, Daedalus, and Swanella and the Doll;
Plus Five Short-Short Plays including: Manikin & Minikin, Red, The Interrogation, Larry's Sugar Pills, and Job. $1.99
[Plus two recent live YouTube videos ROLL and TREAT ME NICE. Free at the "TomHendricksMusea" YouTube channel.
SPECIAL OFFER: Your first CD, or novel download is free. You buy, I pay. Please
e-mail me for details.
The Architecture #2 Issue. Musea #196. May/June/July
(c) Tom Hendricks 2015
Note: Some copies of this issue, are the first Musea's printed in color.
Musea is: Tom Hendricks 4000 Hawthorne #5 Dallas Texas 75219
email: tom-hendricks@att.net
websites: Musea.us (zine)// hunkasaurus.com (music)// musea.wordpress.com (blog)
***