<![if !vml]>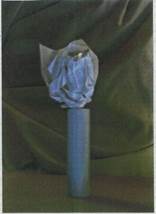 <![endif]>Dear Musea Reader
This issue is about sculpture. Here are my ideas on sculpture projects I'd like to do, or more exactly, have a sculptor make for me. Plus the last two pages feature my four books streaming on the net, and some review excerpts. Chisels ready? Let's go!
SCULPTURE. (see illustrations)
A. MAN: This sculpture is a very simple dark marble sculpture with two connected parts. The large torso rock, and a round rock for the bowed head <![if !vml]>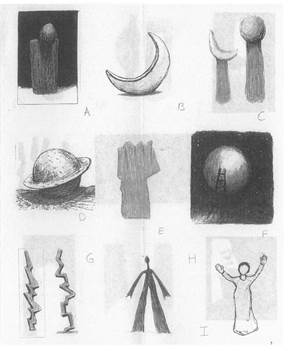 <![endif]>
B. This large white stone is big enough for a couple to rest easy in the curve of the crescent. Made for a garden.
C. EARTH & MOON: Both are mounted on darker pedestals. Earth is grayish blue, and the Moon is grayish white.
D. SATURN: White carved rock with a slanted ring. Small enough to sit on the ring.
F. LADDER TO THE MOON: (Installation). This moon is painted on the wall, or it can be a light round sculptured ball hanging in a dark room. The ladder is firmly attached to the floor and raises up close to the Moon without touching it. The room is dark except for small twinkling lights for stars.
E. FIST: This can be either an outside sculpture as tall as a man, or an inside sculpture slightly larger than a real fist. I suggest it be made of strong rugged cement or rock.
H. TALL MAN: This 2D metal statue is at least twice as tall as the average man. It is also flat on front and back and as thick as necessary to make it stable.
I. OPEN ARMS: Life size statue of a woman is all white marble with stylized and simplified features.
J. MOON HEAD: Life sized torso of marble with a slightly larger crescent moon for a head. The torso is a darker marble, the head white, and the neck slightly less white than the head.
G. FROZEN LIGHTNING: This is the first of a series of abstract sculptures. The pair should stand twice as high as a man and be made of bronze.
K-1. COUPLE: Here are two abstract works that fit together. Both are made of a grayish rock, and stand as tall as a large door.
<![if !vml]>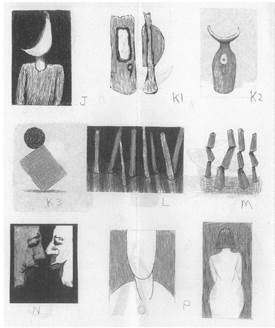 <![endif]>K-2. MIRO-ISH: This large, 10 foot or better abstract bottle with an eye and a crescent top, is loosely based on a work by Miro. White eye and white inside of the crescent.
K-3. UNBALANCED: This 10 foot high or better sculpture has two connected parts, a square gray rectangular stone, and a round black ball on top, Looks like the ball is about to roll off but it never does.
L. FENCE DESIGNED BY AN ARTIST. The columns are ten feet tall or better, attached firmly to the ground, and made up of poles of marble. They can either be placed on a pit of sand, or a shiny surface.
M. CUBIST POLES: This is another ten feet tall sculpture group. These can be any material including metal, or wood,
N. COMEDY & TRAGEDY: This is the first of 3 relief sculptures. Each is in a recessed square space cut into a wall. The backgrounds are about 3" deep with the sculpture almost flat with the rest of the wall around it. For material, have colored cement or a similar textured substance.
O. MAN (Relief): Here's another wall sculpture with the background cut deep and the head neck and shoulders flush with the wall. Darker color for the lines of the chin and neck. The head and body white and the background grey cement.
P. WOMAN: This life sized wall sculpture has dark hair, white body and dress, and deep background relief in grey. Black color for the lines of the dress.
Q. GUITAR: Ten feet tall, stylized, white marble, guitar slightly slanted to one side, has a dark, recessed sound hole, and fret markings on the grayer colored neck.
R. DOOR: Surrealist door stands alone. Make this out of wood or stone, and slightly larger than a normal door. Besides the frame, there is a doorknob on each side.
S. CITIZEN: Masked shaped, white marble, head sits on a pole neck attached to a square darker stone, column. The face should be turned slightly to one side.<![if !vml]>
<![endif]>
T. LETTERS: This is a series of 26 ten feet tall sculptures, each randomly placed close together, and each fragmented to enhance their shape.
U. CANDLES: This group of giant sculptures represent a group of candles, with darker colored wax, and free shaped flames in lighter colored stone. The group should be arranged at different angles that look good from every side. Make them big enough so people can walk through them and look up to see the flames.
V. THE GROUP: This is a set of assorted size, stone or metal, sculptures representing a group of everyday people in all sizes. All have the same stylized faces with a nose bar and protruding eyes. The heads are much wider than they are thick. Space them so people can walk among them.
W. DISH & SPOON: Giant, ten feet tall, silver spoon with legs and arms, facing a white stone dish with legs. Mother Goose Fun.
X. WOOD FIGURE: Giant carved wood figure ten feet tall.
Y. SYMBOLS:The Pyramid, Sphere and Square represent three goals for all: The pyramid represents achieving goals, rising to the top of the mountain. The square represents roadblocks and problems along the way. And the sphere represents all that is around us that we hold dear and want to sustain and protect.
Z. ALIEN ELDER: Wood, human sized, sculpture looks like an alien looking over his shoulder.
Cover Sculpture: CANDLE; This tiny sculpture is no more than the plastic core of a roll of paper, with a scrunched up piece of scrap paper tucked into it, to represent the flame. It took me seconds to make, but I liked it and wanted to keep it.
* * *
The SCULPTURE Issue: #197.Aug/Sep/Oct. (c) Tom Hendricks 2015
[Note: Some copies of this issue, may have a color cover.]
<![if !vml]>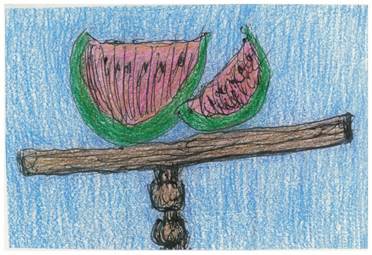 <![endif]>
Musea is: Tom Hendricks 4000 Hawthorne #5 Dallas Texas 75219
email: tom-hendricks@att.net
Websites: Musea.us (zine)// hunkasaurus.com (music)// musea.wordpress.com (blog)
BIG NEWS: CD Baby recently posted to YouTube, 150 videos of my music - one for every song I recorded!!! To find them search CD Baby + Hunkasaurus.
* * *
.
Here are quotes from recent good reviews of my 3 novels. (See back cover)
CENDRILLON, THE TRUE STORY OF CINDERELLA.
<![if !vml]>

<![endif]>Tom Hendricks uses a unique historical perspective to bring new life to the tale of Cinderella.... Hidden within the story are lessons about love, loss and acceptable behavior, not to mention the definition of true beauty ... Cendrillon: The True Story of Cinderella is a delightful version of a favorite fairy tale.- Melinda Hills
This version, which includes a carefully restored photograph of the heroine of the tale, makes the story an adventure and a delight all over again...And Cendrillon? She's everything a fairy tale lover could ask for... most highly recommended - Jack Magnus
PORTRAITS, a novel about ART, ARTISTS, and the ART REVOLUTION.
Yes, at the heart of Portraits is a love story, a love triangle, but its soul delves deeper into a layered plot that draws out a more widespread implication: that art is the axis of all things beautiful, <![if !vml]>

<![endif]>significant, and real. - Jamie Michele
The author's story captures the essence of the lifestyle and struggles of artists, especially those who've not been discovered... I ... enjoyed the way he builds up each artist's character, artistic influences and personal style. The correspondence between Jack and his mysterious friend is compelling reading, and I began to look forward to each new missive ...I had a marvelous time reading this novel and am looking forward to rereading it soon.... - Jack Magnus
I was drawn into it rather quickly and I really liked the characters ...I enjoyed Portraits ... and would definitely recommend it to a friend. This was a very well-written short novella with a good story-line. - Samantha Dewitt
LIBRARY PLANET
<![if !vml]>

<![endif]>Tom Hendricks' Library Planet is an explosion of imagination and wonderful cultures from all the diverse planets... This is a story for those who want to get lost in a planet sized library without spending too much time away from real life. - Maria Stoica
Library Planet by Tom Hendricks is a gripping mystery with a mixture of sci-fi, fantasy, suspense, and even a bit of romance. I was amazed at how Tom Hendricks managed to bring out a story so deep on so few pages. - Faridah Nassozi
Library Planet is exactly what it says it is; an outstanding look into the very core of human evolution and its repository of knowledge. I started the first page dubiously, thinking that I would run through the book in an hour or two, and finished the last page a week later with a satisfied sigh! This is a book of originality, vision, imagination and content. - Deepak Menon
Library Planet is hauntingly beautiful, and the author's use of language and imagery throughout the work is inspired. This story is part fantasy, part fable, and totally awesome; and it's most highly recommended. Wow! This is breathtakingly good. Bravo! - Jack Magnus