HouseDallas Musesa designs a line of clothes

The bus lets you out and you are there Bag in hand, Musesa-ville, Couturier Lane, 2003. Take the catwalk from the street to the building. Ring the bell. "Ding Dong." "Hello and welcome To HouseDallas. Walk this way. Sit here and see what suits you this season Girls bring the tea and raise the curtain...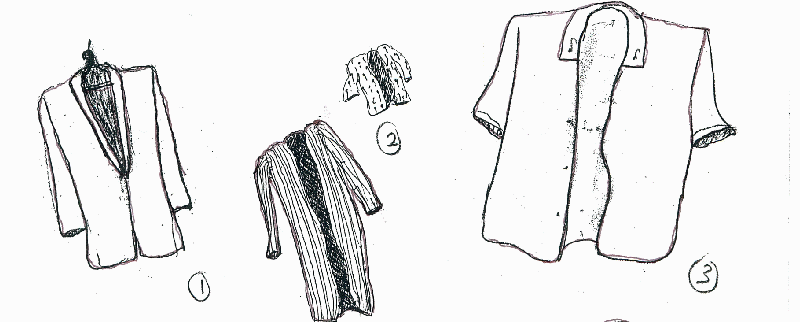 Our first offering comes from our basic wardrobe line. It is #1 The Model T Jacket. This is our workhorse item - a basic lightly constructed simple sports coat for men. It's pared down to the essentials. Sleek and so cheap at $10-20 that you can own 2 or 3 in all kinds of fun colors. Cotton or wool blends. We want them to be affordable for all, so wear it anywhere and often. If it wears out, wash it, or replace it. It's meant to be used up.
#2 The Lab Coat (2 pix) It's similar to the T Jacket in construction, but look at that length! What sleek lines and comfort. Comes in any color or pattern you can imagine. Thicker version for winter comfort, thinner one for summer flare.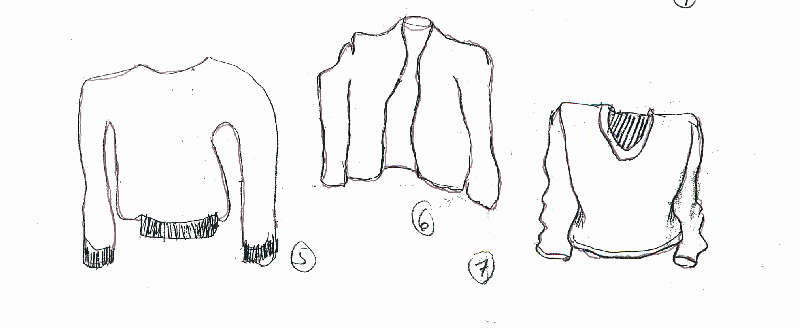 #3 The Bowling Shirt. Oh to find a simple shirt that's affordable and done right. In our top line the Bowling shirt is satiny with snap buttons and 50's colors: gold, creme, pink, peach, robin egg blue, etc. Note the collar emblem. In this case it's musical notes. But every one can be customized. More options include a different colored collar, a cotton version, and a pocket. Note: See our HD logo? Here's what that label stands for. Affordable fashion - let's repeat that - affordable fashion that is stylish, elegant, and fun again. And instead of a trickle down style from couturier originals for the rich elite to watered down knockoffs in discount stores; we start stylish and affordable, so just about anyone can afford the best designed clothes when they first come out.
#4 The Pancho. Warm, comfy, colorful and perfect in winter for men or women. Lounge around the house, go to a movie, or take a walk in the neighborhood - perfect. In cotton or wool blend ... ummm!
#5 No Sweat Sweatshirt. More constructed than the pancho, but otherwise it has all the comfort and style and color options. Its pictured with elastic waist and sleeves, but that's optional. The key to style here is making it a thin sweatshirt. The perfect sweats for 'cool'.
#6 Purr-fect Jacket. Sports jacket for men or women has all the features of the T-Jacket (#1), but its even simpler. Short length as bolero or full length as ultimate zen- simple, no collar, for all sports, jacket.
#7 Long Sleeve T. Long sleeve cotton T-shirt is the T-shirt for winter and night time chill. All colors, not just 3 or 5, more like 100 different colors. Now that's affordable fashion. Now on to our 2nd line. Here we showcase clothes with fashion flare and fie fi fo fun! - It's big and jolly.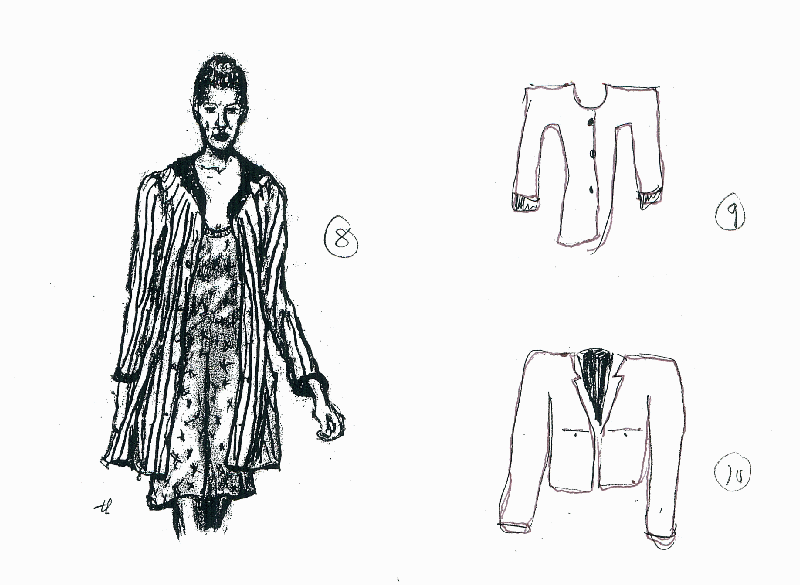 #8 Lab Coat Plus. Here we add pattern and panache to our lab coat (see #2)
#9 3-Button Dress Up. Women only, 3-button, light colored, dress up top or full size dress. May have full or 3/4 sleeves. Office fashion. Note: Soundtrack of this issue (music I'm listening to while writing) "An American in Paris" by George Gershwin - mai oui.
#10 and #12 Blouses. Two designs for blouses, shirts, or jackets. #10 spotlights 2 pockets and collar. #12 is all lapels.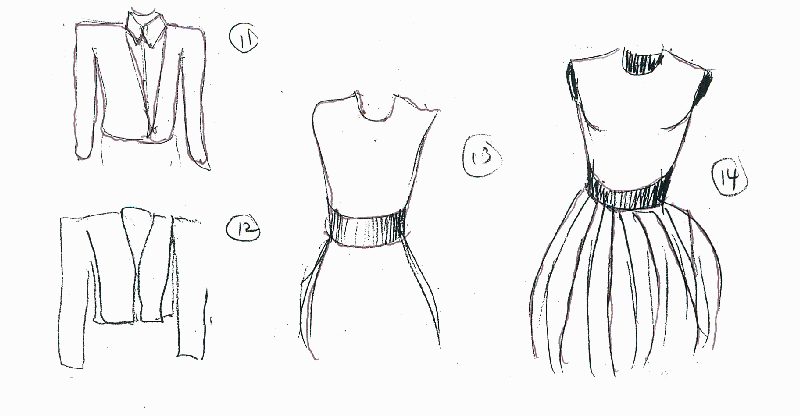 #11 Sweater Down to Here.! This sweater has deep decolletage. Pink would be purrr-fect. #12 See #10
#13 and #14 Prom Style 2. Dresses for the prom. Note: Fashion Golden Rule #1 Best look seems to be either: tight top and loose pants or skirt, OR loose top and tight pants or skirt. If both top and bottom too tight the look is too severe and stern. If both loose - too unkempt and frazzled.
#15 Knotty Naughty. 2 ends tie together for knot. Note: Fashion Golden Rule #2 Just as you mix tight and loose, mix shiny and flat. All shiny can be pulled off by some but looks gauche on most. All flat is comfy for lounging around the house, but looks dowdy in public.
#16 What Time Is It?. Watch Jacket. Jacket, like in #6 or vest has small watches attached. The smaller the chic-er. May be all the same type of watch or a collection of different style and size watches. Antique watches would be the ultimate. Make sure they are all wound up and set them at different times for fun. Note Arabic numbers are stylish, roman numerals are not! Note: Fashion Golden Rule #3 If you are a woman over 200 lbs., your days of wearing high heels are over.
#17 The Windblown Blouse. Femmy blouse is made of sheer and see through folds. Light and airy. Note: Fashion Golden Rule #4 for women only: There is a thin line between dressing provocatively and being a c-teaser. Walk it carefully!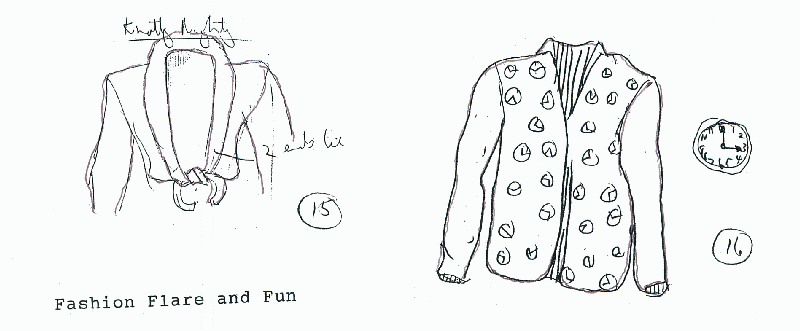 #18 Button-Down World. Button Jacket (or sweatshirt) can use pins or patches or whatever collection of flea market finds you have. Assemble your favorites into a dazzling coat or let us. Oh so many ideas here - campaign buttons, Olympic pins, Boy Scout patches, cameo pins, etc. Use your imagination and make a one of a kind fashion statement. Note HouseDallas wants to open the door to new designers. But who has that much to invest in fashion lines from unknowns. Solution? Simple. Showcase an art exhibit of fashion drawings and sketches. Anyone can afford to show their sketches. We would assemble them all into an annual Musea exhibit and let the monde decide the fashion that fits their fancies.
#19 and #20 I Saw it in the Window Curtain Jackets. (with a homage to the Carol Burnett Show) Note: Before we go on to our 3rd line, accessories, here's a fashion designer's code - make fashion not costume. Now let's add to that motto these accessories:
#21 The Ideal Jumpsuit. (with a dark 'T' underneath) needs an accessory or two. Here are some playful ideas.
#22 The Chinese Hat. (2 views). Winter-soft and warm in beige, black gray, brown, etc. Note: What happened to dress up? Is casual the Godzilla of today that eats up all elegance? Can you have fashion and style without snootyness? We think so. We advocate that certain restaurants set aside 1 day a week for dress code night. The only customers allowed in are those dressed up. Not dressed in great expense, but dressed with great care and flare. How fun to dine in elegance, to see others dressed in style, perhaps even dance in dinner clothes. If it can be done in a way that praises dress-up over money snobbery - bring on the bubbles!
#23 Dog Tag #1. This is a sample of our jewelry line that anyone can customize to suit. Pictured is a clear plastic name tag holder on a chain or string or chord. But instead of your name, add a fav. photo, a cut out piece of art from a glossy magazine , a classic Tang poem, a beautiful red autumn leaf, a treasured concert ticket stub, a valentine, or.... Also instead of diamonds and rubies and pearls, how about simple pins, or paper rings, or headdresses of sewn together, green leaves like Caesar wore?
#24 Cartoon Belt. If your look is all plain, no plaid or pattern at all, you might need a single eye-popping piece. These belts have a series of photos like a cartoon, or you can place any collectibles in these little belt pockets. Examples: thumbnail family photos, assorted knock-knock jokes, pieces of hard candy ...
#25 and 26 It's a Necktie Party. (and by the way western style shirts and jackets are tres chic as is dude!) In #25 the chord holder can be custom made to fit your interest. Pictured on this one is the pi symbol. Must be a math major. In #26 wood beads make an elegant alt. to ties.
#27 Tommy Knot. Tie a tie in the regular way but instead of tucking in the last pass, go over. Look is lean and without lines - no knot-sense. Note: No ads! No logos! No never! How gauche to plaster your house name on the outside of your clothes or accessories. Who are these designers? They are not us. A simple small tag inside the collar or in the sleeve says HD - that's it. No clothes endorsements, no paid actors and actresses hawking brands, no product placements in TV shows or movies. No nonsense. If the clothes aren't stylish, all the promo in the world won't save them. Make your clothes well and that's the best endorsement. Our last line is not pictured. Your mind is the runway. See if you can see.... T-Shirt. There is an American uniform and it is a white cotton T-shirt and blue jeans (white socks and sneakers). We build on that with our T-shirt variations. Our line of 'T's (with or without pockets - short or long sleeve) is different in that it comes, not in 1 or 5 colors, but in a 100! A basic 'T' goes with so much that just making it right is half the fashion battle. And having the color you like in your size adds to the fun.

Also for those who like something just a little different, we suggest a line of oversized T-shirts. The collar fits but everything else is just a little too large. It's a casual sexy look, like when she is wearing his dress shirt.
Hippie Dress. This last item (and my favorite of all) is not really just a dress but a line of clothes. And the Hippie idea is there to suggest the free spirited, bohemian, comfy, and feminine, young mom, type clothes. And the star here is not the cut of the clothes, but the pattern on them. Each month, for 100 months, we will offer - for that month only - a pattern for a line of clothes and more that might include, long winter-warm dresses, blankets, baby clothes, comfy shirts, etc. What makes our patterns special? I'm glad you asked! They are small (that's more chic) but most importantly of all - the >pattern is not repeated!!! For example, lets say this month's pattern is made up of "rocking horses'. That means that that months cloth is full of pictures of rocking horses - each different, no repeats. Are you getting the picture? Let me suggest some other patterns: #2 space ships, #3 US states, #4 seashells, #5 playing cards, #6 all the symbols for all the elements, #7 chess pieces, #8 flags, #9 radios, #10 trucks, #11 butterflies, #12 sewing notions - spools, needles, buttons, scissors. They would be collectible patterns - sort of like charm bracelets but clothes instead of jewelry. Some more examples: #13 coins of the world, #14 fish, #15 flowers, #16 cups and saucers and teapots and sugar bowls, #17 clocks, #18 Mother Goose rhymes, #19,20,21, cats, dogs and birds, #22 candy bars, #23 circus related items, #24 train cars. If each pattern is done well, I think there would be a lot of fun in these for at least 100 versions (that's 8+ years). Some would appeal to all - #25 teddy bears, #26 dolls, #27 ships; while some would appeal only to a specific audience -
#28 quotes from Shakespeare,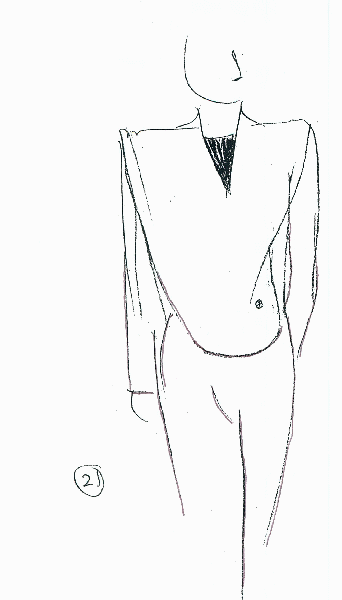 #30 I Ching symbols,
#31 Egyptian Hieroglyphics,
#32 orchestra instruments. Wouldn't it be fun to have your favorite shirt, blanket, long dress, etc. in your favorite pattern? Some more for the road:
#33 farm animals,
#34 famous magic tricks,
#35 famous novel first editions,
#36 toys,
#37 Wizard of Oz characters,
#38 Architectural landmarks of the world,
#39 hammers, screwdrivers, saws, etc., and oh one more ... let's think.... oh how about the obvious -
#40 favorite all time cool fashionable clothes!
Musesa is - Tom Hendricks 4000 Hawthorne #5 Dal. Tx. 75219 tomhendricks474@cs.com
See me play in my Inwood Box Office Concerts at the Inwood each week. Join our free e-mail club for weekly updates. Support the revolution in arts ! c Tom Hendricks 2003
Back to Main Page