70 Film Summaries Part 3
51. TOM & SCOTT.. Conversation film. Alden Scott Crow and I have been having an exchange of cassette letters for many years. We talk about all things including zines, the state of the arts and media, and more. This film has 2 actors reading the best parts from each of our many tapes, in a dialogue through cassettes - a running commentary on this period in history in the arts and media.
52. THROUGH THE HOUSES.. Poem adventure. The landlady bangs on the door and demands past due rent, while the poet packs a suitcase with poems and escapes out the window. He then wanders through 12 'houses' each a division of life (based on the 12 houses in astrology). In each he or other characters recite one of his poems related to that house. The film/play continues till he gets to the final 12th house. Day is done - another place to sleep.
53. FOX & GEESE.. Three Romantic Chases - anthology. Chase 1: two children, a boy and a girl are playing the game "Fox & Geese" in the snow chasing each other around the circle and down the paths in the middle. Chase 2: The old car of a young couple breaks down in the hot desert near a river. She says "If you can catch me, you can have me." She sprints over the rocks, up the hills to the river and he follows... Chase 3. Middle aged man comes home to a note that says "follow the clues across the city and catch me if you can. The first clue leads him to a 2nd and so forth. He follows the trail through department stories and museums, into cafe's and nightclubs, up and down skyscrapers and underground tunnels. Where will it lead, and can he catch her?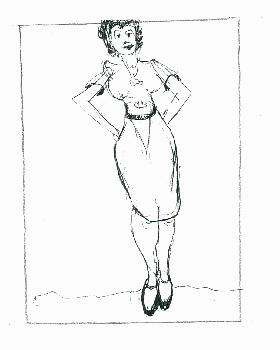 54. PLATERO & I.. Family film. Adventures of a poet and his pet donkey Platero, based on the book by the Nobel winning writer Juan Ramon Jimenez.
55. BEST FIRST DRAFT FILMS.. Experimental film. Musea (in earlier issues) suggested that filmmakers pitch their film ideas with 'first draft movies.' A first draft movie is a video in which the director walks you through the film showing you possible sets, shots, camera angles, possible dialogue, possible actors, ideas for costumes, scenery, and even some partial key scenes completely acted out. Without spending a fortune, the filmmaker can show enough about his film idea to allow a film company to either make a finished version or pass on it. This film would show the process of making a first draft video, and some of the best examples.
56. ARMAMENT RACE.. Sci-fi comedy. Director at a kids TV sci-fi adventure series, tells the prop man to get more realistic looking space rayguns for his actors. The prop man sees a gem of a gun in a scientists lab and steals it for the show. Turns out its a real ray gun. Complications ensue. Based on the Arthur C. Clarke short story Armament Race from Tales from the Hart.
57. 9 MUSES.. A 9-film series. Each hour long film in the series spotlights examples of art connected to one of the 9 Greek Muses: Astronomy, Dance, Lyric Poetry, Comedy, Tragedy, History, Epic poetry, Love poetry, Sacred poetry. A unifying element is my idea for a 2 wall mural for the 9 Muses.
58. JOURNEY TO THE CENTER.. Kids TV sci-fi adventure series. Planet Asgard, about the size of Jupiter, is a man made planet! And it seems to have different levels all the way to the core? At least that is what some maps and rumors say. An exploration team is sent in to explore it. They find different ancient alien civilizations at every level. But what, if anything is at the core? Loosely based on Journey to the Center by Brian Stableford.
59. WRITINGS IN SCIENCE.. Sci-fi, history, saga. Far far in the future, Earth is about to come to an end. In the moments left to people on earth, one man collects his favorite Earth based writings in science, to preserve them for the future. This film is that collection of writings: articles, inventions, social changes, dramatic events, etc. etc. that show the major science discoveries from the start of earth science (about 2000 AD) till its end. Based on my upcoming novel, "Writings in Science."
60. 365 BED TIME STORIES.. Series of videos for children. This is a collection of 365 short videos on all aspects of children's literature: poems, art, plays, stories, songs, etc. - with one for each night of the year. Included are holiday pieces for all major holidays.
61. TEN'S COMPANY Remake. This is a remake of a 3's Company TV episode where Jack, a young chef, impersonates a well known but reclusive chef, to get his first cooking job at a fancy French Restaurant. The problem is that everyone hates the two timing, money owing, glory stealing, real chef (though they've never met him). So when they think he'll be opening the restaurant they all go there for revenge. Complications follow in an extremely complex plot of multiple mix ups. Also as a side dish the film shows lots of scrumptious food.
62. BEST OF THE TOM HENDRICKS TV SHOWS Best of my cable TV series. In 1984 I did five 30 minute TV shows on cable access. This is the best of those 5: The Tom Hendricks Show, The Tom Hendricks Show Rides Again, Son of the Tom Hendricks Show, The Tom Hendricks Show Goes Hawaiian, Reruns - The Best of the Tom Hendricks Show. They are a mix of poems, music, art and more.
63. CHRISTMAS STORIES Anthology. A collection of short story films based on my annual Musea Christmas short stories.
64. MARACOT DEEP Sci-fi/adventure. This little known Sir Arthur Conan Doyle (of Sherlock Holmes fame) sci-fi adventure is about Professor Maracot and crew marooned at the bottom of the ocean in the sunken city of lost Atlantis!
65. PAT HOBBY STORIES.. Short story films. These short story films are about the film industry in the 20's by the literary great and one time screenwriter (better known to us by his novels) - F. Scott Fitzgerald. They're based on his short stories about the fictional screenwriter Pat Hobby in the golden age of Hollywood and give a real insight into picture making.
66. ZINES.. Documentary, history, literature. A film showing the history of 'zines' from the explosion of desktop publishing to today with samples of writing, art, and bookmaking, from all the best of this innovative genre.
67. THE WAITING ROOM.. TV variety show, series. This film is set in a theatrical agents waiting room where all kinds of artists wait to audition for a TV variety show but they never can get in. In the meantime, we see them show off their talents in the waiting room: comedy skits, songs, classical pieces, artworks, fashion designs, dances, actors acting, poets and other writers reading their works, speakers giving speeches, plus animal acts, jugglers, novelty acts, and more. It's a fun way to show off a variety of talents in a casual atmosphere.
68. SOAPBOX.. TV public service series. Each week the 'soapbox' is turned over for 30 minutes to 1 advocate to have his say. Anyone who wants to talk about any issue he feels passionately about, is welcome to do so - and to do so with no interruptions, questions, or interference of any kind. It's a real TV soapbox for scientists, religious leaders, artists, professors, politicians, leaders of any group or advocates of any issue. May later do a film of the best of these speeches.
69. MIDSUMMER'S NIGHT DREAM BALLET This film mixes dialogue from Shakespeare's play, Mendelssohn's incidental Music to Midsummer's Night Dream, and my added dialogue in some set up scenes - with ballet dancing in 5 acts plus a short epilogue.
70. SHORT STORY FILMS.. Short Films. Hundreds of assorted ideas for short story films based on assorted literature, pulp fiction, history, music, art, and other sources.
THE END
Musea is: Tom Hendricks, 4000 Hawthorne #5, Dallas, TX. 75219.
Tomhendricks474@cs.com
(Also join our free e-mail club, and come hear Hunk and P.D. any Tues., and Wed. Night at the Inwood Theater Box Office for their 'Hunk Under Glass' tour.
c. Tom Hendricks 20003.
Comment is welcome! Thanks for reading Musea - Tom.